Basics and Fees
Time schedule
Dinner
Miniworkshops
How to find us
Basics and Fees
Fees: 310.00 € including food and lodging (drinks on Friday evening excluded)
Pupils/Students: get 30 € off the Fees including board and lodging (drinks on friday evening excluded)
Accompanies 135 € including food and lodging (drinks on friday evening excluded)
Without lodging and breakfast the fee reduces by 50 €
Instrument rental: 20.00 €
No loan instruments are provided for the ensemble course.
Maximum participants per workshop are 9 (15 for Ensemble workshop).In 2023, we are offering Hurdy-gurdy, Huemmelchen, Nyckelharpa and Ensemble lectures. Please be aware, that during our bagpipe workshops Huemmelchen are used (tuned on C/D). Other kinds of bagpipes like Schaeferpfeife or Great Highland Bagpipes will be presented, but not used during the workshop.
In agreement with the instructors, if your experience level is not met, you are welcome to switch workshops.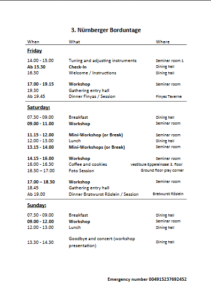 Time schedule
If necessary, you can already put your luggage in the Seminar room 3 from 2 pm on friday.
From 2-3 pm all hurdy-gurdy players also have the opportunity to have their instruments checked through in course room 1 for minor problems. If you have questions about tuning and maintenance Alex will assist you. Please note that NO REPAIRS can be made within this offer.
Keys for your rooms can be collected from 3.30 pm onwards at OUR registration desk (not Youth Hostel desk!) situated in the dining hall right behind the main entrance.
Participants, who booked their accommodation on their own by selecting the option "No accommodation in the Youth Hostel" receive their keys directly from the Youth Hostel.
All participants gather at 4:30 pm in the dining room of the youth hostel (directly at the entrance) for a welcome. First lectures will be right after the assembly.
The end of the workshop weekend will be at lunch on Sunday. After lunch, we will have a voluntary concert with all participants. From last years' experience until approximately 2.30 pm.
Dinner 
On Friday evening, we will find ourselves for dinner at Alte Küch'n. Please use the respective space during the registration to order the main course in advance. Starters and deserts including vegetarian option are provided for everyone. You are welcome to bring your instruments along to play session. 
On Saturday evening we will dine at the youth hostel and use the seminar room 3 for a session and dancing after dinner. 
Mini workshops:
Additionally to the "normal" workshops for your chosen instrument, we will offer "Mini-workshops". These will take place 45 minutes before, and 45 minutes after lunch on Saturday. A change of mini workshops is possible at any time, so that everyone can try and learn as much as possible. Of course, you are free to use this time to practice individually or visit Nuremberg historical town center.
More information about mini-workshops you can find here: https://www.nuernberger-borduntage.de/en/mini-workshops-2/
How to find us
Address: Burg 2, 90403 Nuremberg
Here you can find the Youth Hostel via Google Maps.
Parking in front of the Youth Hostel is only for loading and unloading. Please use Maxtorparkhaus or the adjacent streets (only few parking lots) to park your car.
Arriving by train you can use U2 or U3 directly from the main station until Rathenauplatz. From there it is a 5-minute walk. Walking directly from the main station takes about 20 minutes.