Francesco Giusta
Francesco Giusta takes interest in the hurdy gurdy at the age of 11. He later improves and develops his technique with master players such as Gregory Jolivet, German Diaz, Matthias Loibner, Valentin Clastrier and Tobie Miller.
He started from the traditional repertoire of his region and the French folk music, analyzing and understanding the structures and languages of those genres applied to the dancing scene to then redirect his attention towards world music and baroque music, studying and developing a modern approach to the instrument as well as analyzing the historical methods and the written works for the instrument.
He has played in several bands, mainly folk, baroque and medieval music, has been to many folk and medieval festivals and as well held several workshops and masterclasses across Europe; he recorded some CD's with his bands as well as being a guest in several works of other groups.
In 2015 he won the first price at the hurdy gurdy 'solo' competition at 'Le son continu' festival in Chateau d'Ars, France, getting the title of 'Maître sonneur'.
Since 2011 he has been giving masterclasses in several European countries and giving lessons in his hometown. He now plays in several folk and baroque projects and has regular hurdy-gurdy classes in Turin, Germany and providing on-line tutoring.
Brian McCoy
Brian McCoy is a North American that lives in France. Initially a trained singer and drummer (Husbands & Wives, The Handsome Devils), he fell in love with the hurdy-gurdy in 2008. After receiving his Degree in Theatre and Musical Technologie from the University of Kent State, Brian decided to compose, perform and produce his solo work. In 2016 he decided to migrate to Europe to meet real players and further develop his technique. Since then, he has broadened his field of research around the instrument, diving deeper into using effect pedals and discovering new techniques. He collaborates and works on many projects (Lee Scratch Perry – The black album, SEAPHONE, Eunice, improvised concerts in Japan,BOOP).
Stephan Groth – Faun, ZiRP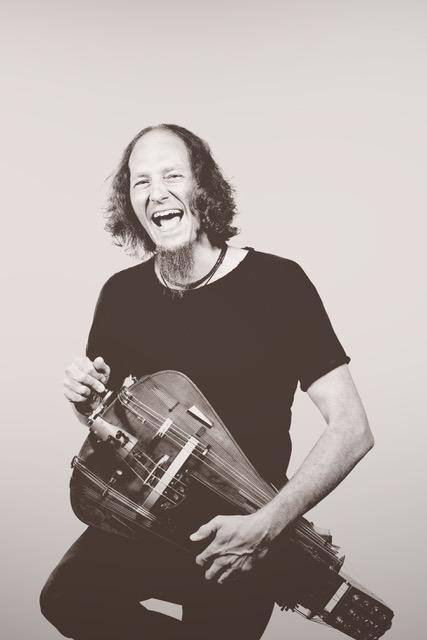 Stephan is a notoric multi instrumentalist and studied acoustics with a deep interest in everything, that makes a sound. During his studies he discovered the Hurdy-Gurdy as his main instrument. Since then he increases his experience in the fields of Folk- and World music as well as dancing music in workshops and sessions with other folk musicians around Europe. Due to his thorough musical interest in different genres he tried to understand the hurdy-gurdy as modern instrument with boundaries yet to be discovered. His technique is known for its electronical effects as well as loop stations. Since 2012 he is member of the successful Pagan-Folk-Band 'Faun' and founder and leader oft he folk-fusion band 'Zirp'. He is also working as studio musician.
Thomas Blau
Influenced by the Irish and German folk scene of the 1970s, Thomas found his love for hurdy-gurdy and French folk music in 1977. After countless workshops in France, Holland and Germany with Valentin Clastrier, Gregory Jolivet, Patrick Bouffard, Martin Swart, and Thierry Nouat, among others, Thomas has been a lecturer and organizer of hurdy-gurdy courses in Bad Homburg since 2002.
Alex Zwingmann – Fiolka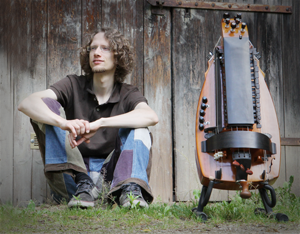 Alex Zwingmanns passion for music came at the age of 16 years. In addition to violin, Nyckelharpa and bagpipe he is especially fascinated by the hurdy gurdy. He attended workshops in Germany, France and the Netherlands lead by Gilles Chabenat, Thierry Nouat, Patrick Bouffard und Efren Lopez. In 2004 he founded the Medieval-Rock band "Ignis Fatuu", which attended numerous festivals like Wacken Open Air and Mer´a Luna. Parallel to that he started teaching hurdy gurdy and bagpipe. Since 2012 he offers workshops all over Germany at e.g. Festival Mediaval, Phantasy Spectaculum MPS and meanwhile also in Switzerland and Netherlands. In 2016 the electro-folk project Fiolka was created.
Thomas Zöller – Estampie
Thomas Zoeller studied Scottish music with main subject bagpipe at the Royal Scottish Academy of Music and Drama and at the National Piping Centre in Glasgow (2002-2005). He was not only the first German, but the first continental European to successfully graduate in this study.
In summer 2005 he founded the bagpipe academy in Hofheim am Taunus. This is Germanys first official bagpipe school and a center for professional bagpipe lessons.
In 2006 Thomas received composition appointment for Théâtre Municipal de Colmar. Since 2007 he is artistical leader of the interceltic folk festival. He performs concerts as a soloist and with different ensembles like ASPs Von Zaubererbrüdern, Estampie, Katherlyns Reise, Òran is Pìob und HOMEBOUND.
He is one of the most renowned bagpipe musicians of Germany with more than 1000 performances, numerous CD/DVD productions and 2 published educational books.
Christian Dreier – Sonor Teutonicus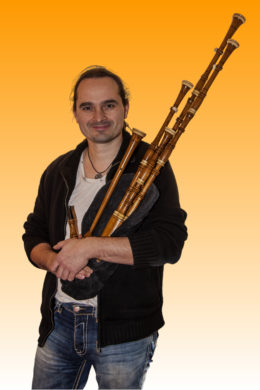 Christian discovered music at the age of 14 starting with classical guitar and e-bass. After digeridoo, bagpipes followed at the age of 20. Since then he stayed fascinated by this class of instruments. His second passion is craftsmanship. After his apprenticeship as carpenter he focused on manufacturing bagpipes and gives workshops on building bagpipes, playing bagpipes and offering individual courses on bagpipes. Together with his brother he founded the band Sonor Teutonicus and plays in this formation until today.
Daniela Heiderich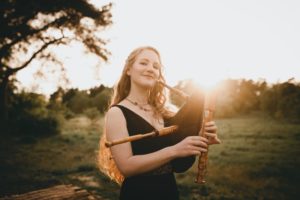 Daniela Heiderich studied traditional harp and bagpipe in Poitiers (France), where she also lived some years. Her expertise is traditional French bagpipe. Her music was originally known from the ensemble "Irrlichter". Nowadays she is primarily active in traditional and old music as well as numerous projects from Bal-Folk-, World- and new music. She teaches regularly at workshops and conducted the bagpipe classes at Limoges Conservatory several years.
Simon Wascher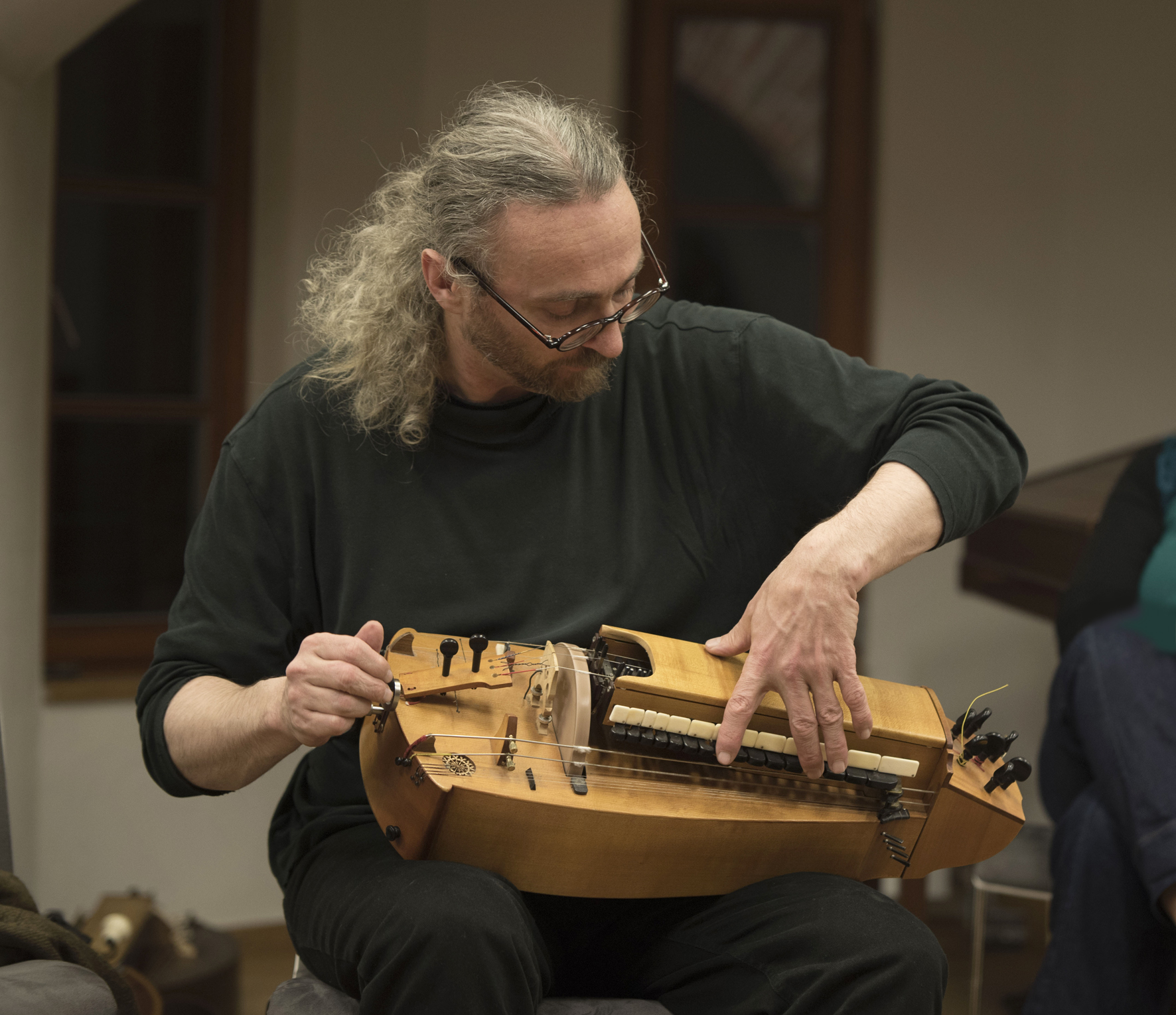 Simon Wascher grew up with a folk music family tradition. The focus of his work is in the area of interpreting traditional music on the hurdy-gurdy, in particular he deals with sources and traditions from Austria and the entire German-speaking area. Since 1997 he has been a lecturer on courses for hurdy-gurdy, ensemble playing and dance in his home country Austria and abroad. In addition to playing hurdy-gurdy, he also devotes himself to research the history of hurdy-gurdy in Austria and the musicians' manuscripts of the eighteenth century. In 2003, he won 1st place in the renowned competition "hurdy-gurdy Solo " in St Chartier.
Regina Kunkel – Fior und Akleja
Regina started learning to play various flutes from all over Europe as an autodidact and later fell completely for the Swedish string instrument Nyckelharpa. She enriches her bands Akleja and Fior with the sound of her unique and groovy Nyckelharpa playing. In addition to appearances across Europe, she is one of Germany's leading Nyckelharpa players and is in demand as a course instructor at various Nyckelharpa and dance course events. Her playing is characterized by many years of private lessons with Josefina Paulson.