Harald Bauweraerts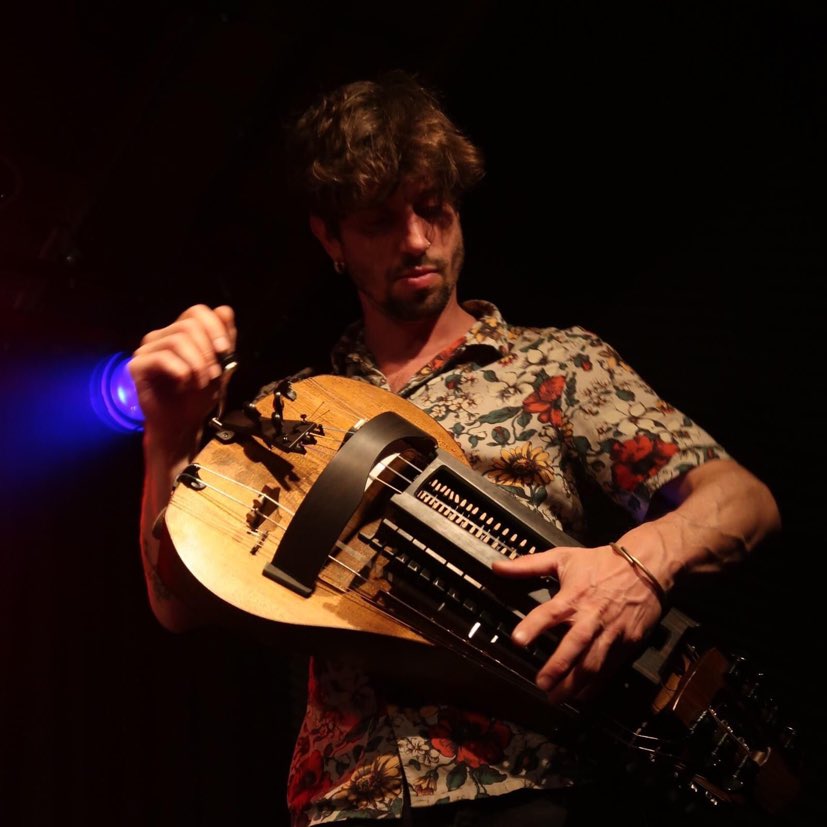 Harald Bauweraerts is a professional musician active in various projects, both acoustic and electronic. Embrun, Toasaves, H.A.R.A.L.D,…
Thomas Blau
Influenced by the Irish and German folk scene of the 1970s, Thomas found his love for the hurdy-gurdy and French dance music in 1977. After countless workshops in France, Holland and Germany with Valentin Clastrier, Gregory Jolivet, Patrick Bouffard, Martin Swart, and Thierry Nouat, among others, Thomas has been a lecturer and organizer of the hurdy-gurdy courses in Bad Homburg since 2002.
Matthias "Mattis" Branschke
… filigree playing, expressiveness, emotionality and rhythm – that's what distinguishes him as a bagpipe player. He currently plays with the duo Branschke/Armstrong (duo with Callum Armstrong), in the trio sunday jam (trio with Merit Zloch and Vivien Zeller), solid ghost (duo with Merit Zloch) and duo Gällmo Branschke (duo with Olle Gällmo). He was a member of the defunct band Kwart and won the 2010 TFF Rudolstadt Ruth World Music Prize with them. Matthias, called Mattis, Branschke has been playing bagpipes with a half-closed fingering since 1998. He also received 10 years of classical flute training. As a duo with his brother Florian Branschke, he won the TFF Folk Prize in 2001. In search of the perfect instrument, Matthias Branschke became an instrument maker and has been running a workshop for bagpipe making in Berlin since 2010 (www.dudelsackmanufaktur.de) in addition to his musical projects.
Gilles Chabenat
Gilles Chabenat has been playing the hurdy-gurdy since he was 13 years old. After taking lessons from Georges Simon, he won several awards for traditional music. He then devoted himself to the repertoire of his region, with the idea of approaching other styles of music as well. In the wake of Valentin Clastrier, he then had to reinvent the instrument and its playing techniques. For some time he has been collaborating with jazz musicians: notably Vincent Mascart, Jacques Mahieux, Alain Bruel, Alain Gibert and Jean-Marc Padovani, through several creations including a theatrical reading by Enzo Corman. He also works regularly with Eric Montbel, Didier François on the nyckelharpa, Gabriel Yacoub and Patrick Bouffard. We are particularly pleased about his latest project with Daniela Heiderich, since the two met at the 1st Nuremberg Borduntage. Gilles' career and musical development are therefore always shaped by encounters. His handling of the hurdy-gurdy favors the diverse character of an instrument that has been constantly changing and reinventing itself for more than a thousand years.
Christian Dreier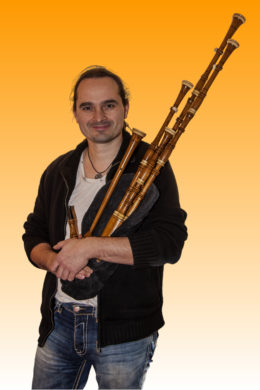 Christian Dreier discovered his love for music at the age of 14. First on the guitar, later on the electric bass, he was particularly taken with the genre of hard rock and heavy metal. At the age of 19 he discovered the bagpipe and since then this instrument has not let him go. Making music on the bagpipes quickly turned into experiments in bagpipe construction.
He has been a full-time bagpipe maker since 2013 and regularly organizes bagpipe making and playing courses (https://www.dreiers-dudelsackbau.de/)
He has also been playing with his brother and later his sister in the band Sonor Teutonicus for almost 20 years now and can be heard regularly at medieval markets, historic city festivals and similar events in the greater Osnabrück area.
Sebastian Elsner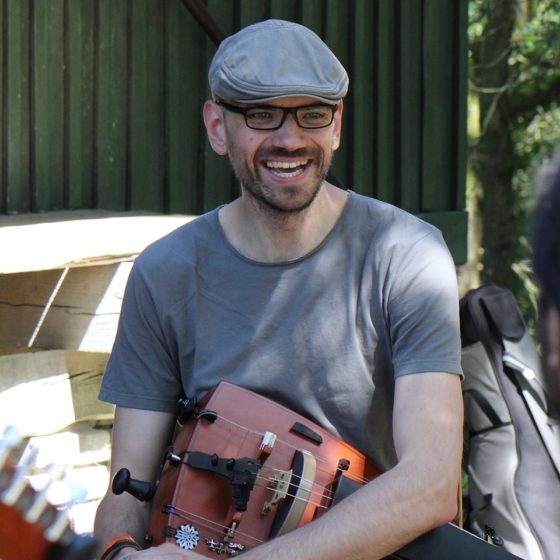 Sebastian Elsner became addicted to drone music via the gateway drug "medieval rock" and then discovered northern European and French folk and dance music in particular. He particularly enjoys teaching beginners and slightly advanced – especially because he can adapt well to the frustrations of the beginnings as a musical career changer over 15 years ago Sebastian is an enthusiastic session musician and plays the hurdy-gurdy in the folk quartet "Fior" (https://www.fiorfolk.de/).
Daniela Heiderich
Daniela Heiderich studied traditional music with harp and bagpipes in Poitiers, France, where she also lived for several years. Stylistically, she has been involved with various French bagpipe traditions in recent years. Originally known from the Irrlichter musically, she is now primarily at home in traditional and early music and is active in numerous bal-folk, world music and contemporary music projects. She teaches regularly in workshops and led the bagpipe class at the Limoges Conservatory for several years.
Rick Krüger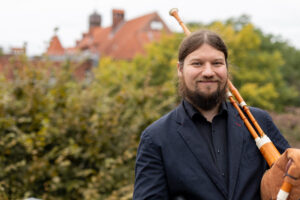 At the age of 16, Rick Krüger began to discover Irish folk with the tin whistle, and later drone music with Hümmelchen and Marktsack. In 2011 he began to play intensively the Schäferpfeife and since then has attended workshops in Germany and other European countries, as well as taking individual lessons from various teachers. He has played in various folk and medieval bands and is currently on the road with the Bal Folk – Duo Airu, the German folk quartet Fior and the medieval comedy duo Mumpitz, his focus is on catchy music that is as danceable as possible, both in the traditional area as well as in new compositions. Since 2021 he has been teaching Schäferpfeife and Hümmelchen at the FGS music school in Jena.
Saskia Maria
Ever since she was a child, making music has been a central part of Saskia Maria's life. She began to learn the violin at the age of 8 and has since played in various ensembles. During her classical training, which lasted until she was 20, she came across traditional Irish music and has been fascinated by it ever since. By participating in workshops on Irish fiddle playing, countless pub sessions all over the world, a long stay abroad in Ireland and a lot of active music making, Saskia developed her own style of fiddle in the years that followed, which was influenced both by her classical training and her experience shaped in (Irish) folk. She has been a full-time musician since 2017 with her two bands "Schandmaul", which she joined in 2018, and "Ganaim – Celtic Folk", which she co-founded in 2014.
Pascale Rubens
Pascale began playing classical violin at the age of nine but fell in love with the melodeon when she was eighteen. She formed Musaraigne with cellist Hannes Pouseele in 1999 and became the melodeon player with Griff in 2002, before forming Naragonia with Toon in 2003. In 2020 she formed a new duo, Systrar, with her sister Véronique. Pascale teaches melodeon at the Schoten and Genk music acadamies and is in demand worldwide as a workshop instructor.
Toon van Mierlo
Toon Van Mierlo is a central figure in the European folk scene. He is not only a talented player of various bagpipes, but a multi-instrumentalist. His repertoire includes the diatonic accordion, soprano saxophone and flutes. Thanks to his flair for beautiful melodies and danceable music, his compositions have become hits across Europe, captivating listeners and dancers alike. Toon has starred in NOVAR, Hot Griselda, of course Naragonia, and many other projects.
Ron Winkler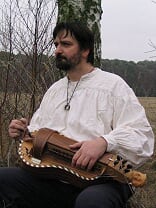 – born in 1968 in beautiful Naumburg an der Saale
– 1970 first encounter with the hurdy-gurdy (thanks Manfred Drosselbart!)
– grew up with Elvis and the Beatles, rebelled with AC/DC and Neil Young
– from 1982 attempts to learn to play the strings; Success on guitar and mandolin
– 1984 first stage experiences with the singing club "Sonnensucher" Gera
– Active member of the same until 1989
– 1989-1998 various cabaret projects and campfire songs
– 1999 first own hurdy-gurdy model "Phoenix"
– First hurdy-gurdy course with H. Hegner
– since 2003 lessons with Silke Reichmann de Salas; Courses with Gilles Chabenat, Thierry Nouat, G. Jolivet, among others
– Appearances at medieval markets and city festivals, including "Luther's Wedding"
– 2008 first ambitions to teach myself
– from October 2008 hurdy-gurdy teacher at the music school in Wittenberg
– 2009-2010 member of the team at the lyre courses in Bad Homburg
– first own course at the hurdy-gurdy festival in Lissberg
– 2010-2012 Nyckelharpa training at Fürsteneck Castle
Thomas Zöller
Thomas Zöller studied Scottish music with a major in bagpipes at the Royal Scottish Academy of Music and Drama and at the National Piping Center in Glasgow (2002-2005). Thomas Zöller was and is not only the first German, but even the first mainland European to successfully complete this course.
In the summer of 2005 he founded the Dudelsack-Akademie, Germany's first official bagpipe school, based in Hofheim am Taunus. The Dudelsack-Akademie sees itself as a German center for professional bagpipe lessons.
In 2006 Thomas was commissioned to compose for the Théâtre Municipal de Colmar. Since 2007 he has been the artistic director of the Interceltic Folk Festival. He performs regularly as a soloist and with a variety of ensembles such as ASP's of the Wizard Brothers, Estampie, Katherlyn's Journey, Òran is Pìob and HOMEBOUND.
With more than 1,000 performances, many CD/DVD productions and two published textbooks, Thomas Zöller is considered one of the most experienced and renowned bagpipe players in Germany.
Alex Zwingmann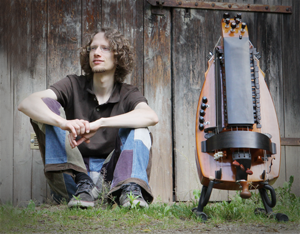 Alex Zwingmann discovered his passion for music at the age of 16. In addition to the violin, nyckelharpa and bagpipes, he was particularly fascinated by the hurdy-gurdy. In the following years he took part in various workshops in Germany, France and the Netherlands, with Gilles Chabenat, Thierry Nouat, Patrick Bouffard and Efrén López, among others. In 2004 he founded the medieval rock band "Ignis Fatuu", with which he performed at numerous festivals such as the Wacken Open Air or the Mer'a Luna. At the same time, he began teaching bagpipes and hurdy-gurdy in Nuremberg. Since 2012, Alex has also been offering workshops throughout Germany, including at the Medieval Fantasy Spectaculum MPS. His workshops are now also in demand at festivals in Switzerland and the Netherlands. In 2016 the electro-folk project Fiolka was born.