Valentin Clastrier
Valentin Clastrier is the undisputed master of electroacoustic hurdy gurdy. During his versatile musical career he studied e.g. choir, classical guitar, trumpet as well as cornet. As singer he acted in several musicals.
1970 he discovered the hurdy gurdy and began to develop the playing beyond the traditional folk styles. As solo instrumentalist he won several renowned prizes.
1987 he designed together with the French hurdy gurdy maker Denis Siorat the prototype for a new hurdy gurdy generation enabling him to develop together with contemporary Jazz musicians whole new sounds.
Till Uhlmann – Bannkreis
Till Uhlmann can be referred to as pioneer the of modern hurdy gurdy music. With his band 'Ulman' founded in Leipzig he influenced the Folc- and World music scene of the '90s and 2000s. The studied Jazz violin player and music teacher later joined the world music pioneers 'Dissidenten'. Currently he enriches the Trio 'Bube Dame Koenig' from Halle as well as the EpicFolcRock Band 'Bannkreis' with his virtuous hurdy gurdy playing. Besides his groove orientated trumpet playing he is known for his unique accord technique.
Michalina Malisz is a hurdy gurdy player of the biggest folk metal act, Eluveitie. She started her adventure with music at the age of 7, playing the piano at first, then changing to classical flute. She completed 12 years of classical music education and after that she discovered the hurdy gurdy thanks to the band she plays in today.
Michalina's main interests are metal and Celtic music – and incorporating the hurdy gurdy in both of them. She perceives the hurdy gurdy more as metal than a folk instrument.
Sebastian Elsner discovered bordun music by listening to mediaval rock and went from there to northern European and French folk music. Despite being forced to train recorder in school he calls himself a late starter. His job is therefore a completely different field – being technical director in graphical field of film industry. Regarding music he travels through Europe and tries to collect impressions from many different teachers and traditions. He is an enthusiastic session musician and also as an honorary post works with students of the Stuttgart art academy in theater productions. Currently he is playing in a quartet focusing on German dance music.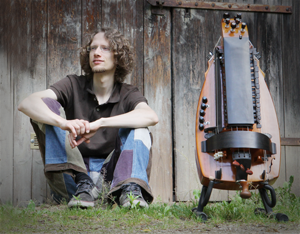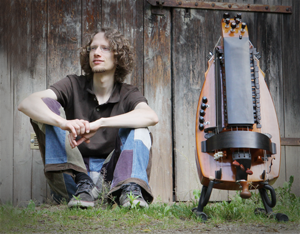 Alex Zwingmann – Fiolka
Alex Zwingmanns passion for music came at the age of 16 years. In addition to violin, Nyckelharpa and bagpipe he is especially fascinated by the hurdy gurdy. He attended workshops in Germany, France and the Netherlands lead by Gilles Chabenat, Thierry Nouat, Patrick Bouffard und Efren Lopez. In 2004 he founded the Medieval-Rock band "Ignis Fatuu", which attended numerous festivals like Wacken Open Air and Mer´a Luna. Parallel to that he started teaching hurdy gurdy and bagpipe. Since 2012 he offers workshops all over Germany at e.g. Festival Mediaval, Phantasy Spectaculum MPS and meanwhile also in Switzerland and Netherlands. Besides his electro-folk-project "Fiolka" he set up mediation music in cooperation with Martina Zehentbauer.
Thomas Zöller – Estampie
Thomas Zoeller studied Scottish music with main subject bagpipe at the Royal Scottish Academy of Music and Drama and at the National Piping Centre in Glasgow (2002-2005). He was not only the first German, but the first continental European to successfully graduate in this study.
In summer 2005 he founded the bagpipe academy in Hofheim am Taunus. This is Germanys first official bagpipe school and a center for professional bagpipe lessons.
In 2006 Thomas received composition appointment for Théâtre Municipal de Colmar. Since 2007 he is artistical leader of the interceltic folk festival. He performs concerts as a soloist and with different ensembles like ASPs Von Zaubererbrüdern, Estampie, Katherlyns Reise, Òran is Pìob und HOMEBOUND.
He is one of the most renowned bagpipe musicians of Germany with more than 1000 performances, numerous CD/DVD productions and 2 published educational books.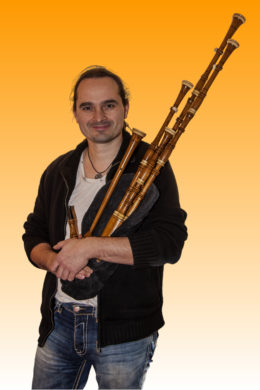 Christian Dreier – Sonor Teutonicus
Christian discovered music at the age of 14 starting with classical guitar and e-bass. After digeridoo, bagpipes followed at the age of 20. Since then he stayed fascinated by this class of instruments. His second passion is craftsmanship. After his apprenticeship as carpenter he focused on manufacturing bagpipes and gives workshops on building bagpipes, playing bagpipes and offering individual courses on bagpipes. Together with his brother he founded the band Sonor Teutonicus and plays in this formation until today.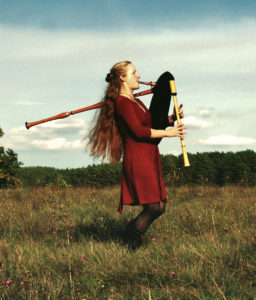 Daniela Heiderich – Die Irrlichter
Daniela Heiderich studied traditional harp and bagpipe in Poitiers (France), where she also lived some years. Her expertise is traditional French bagpipe. Her music was originally known from the ensemble "Irrlichter". Nowadays she is primarily active in traditional and old music as well as numerous projects from Bal-Folk-, World- and new music. She teaches regularly at workshops and conducted the bagpipe classes at Limoges Conservatory several years.
Toon van Mierlo studied oboe for several years as a child at the music academy in Turnhout. Ten years later at twenty-one, Toon fell head-over-heels for uillean pipes (Irish bagpipes). French pipes, clarinet, soprano sax, and button accordion soon followed. In 2003, Toon joined the band Fluxus and after that was soon asked to join Floes, Embrun, Harakiwi, Manimoen, and other bands. Today he plays with Naragonia, Naragonia Quartet, Hot Griselda, Novar and occasionally in Amorroma. Toon has recorded eight albums with these groups and played as a guest artist on many more. Toon teaches bagpipes and button accordion at the music academies of Genk, Herentais, and Maasmechelen and at workshops worldwide.